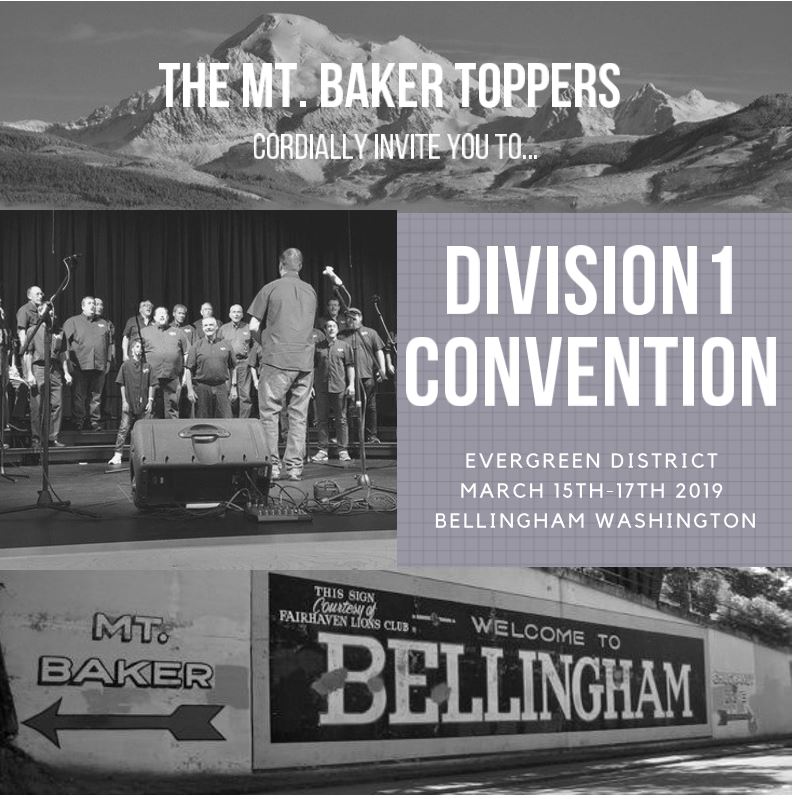 March 15th – 17th of 2019 will be a great weekend for those visiting Bellingham, WA for the Division 1 Barbershop convention.  Bellingham, Washington and the surrounding Whatcom County is a great location for abundant nature, outdoor adventure and sweeping scenery from the Salish Sea to Mt. Baker and North Cascades National Park. Savor farm to table menus, craft brews, family moments, a vibrant arts scene and charming historical treasures.  We are just 25 minutes south of the Canadian border and 105 minutes north of Seattle.  Your host hotel is at the stunning Four Points by Sheraton Hotel in Bellingham.  The hotel features Bellingham's hottest new restaurant, B-Town Kitchen and Raw Bar, voted best new restaurant by Bellingham Alive readers. It is located centrally to downtown Bellingham and near many of Bellingham's waterfront activities, breweries, shopping, and many restaurants. A heated indoor pool, a 24 hour fitness center and awesome new beds make this a great spot to rest after all your singing.  Room blocks are limited to only 40 rooms on Friday night and 40 rooms on Sat. night.  First come, First Served!
Our performing art center will be at the Bellingham High School less than 2 miles from the hotel.  This is the same venue that hosted the 2015 Division convention.  It has a great stage with theatre style seating for a large audience of over 500 people.  Our quartets and choruses will have great spaces to rehearse with classrooms that are located in the same building as the performing art center. 
New this year is the embracing of Everyone in Harmony with offering the inclusion of mixed and all female groups.  Convention participants competing as mixed or all female do NOT need BHS membership as, at a society level, the competition guidelines have yet to be completed.  However, mixed and all female groups will compete in thier specific category, recieve evaluations, and if ranked as #1 in their category, be featured on the Saturday night show!!
As is typical with all other conventions, Friday night will start things off with the Quartet Competition starting at 6:30pm. Rehearsal rooms will be available at 4:30pm with access to the stage for quick mic tests.  A time slot matrix will be provided.  Doors will open for the audience by 5:45pm.  We will continue Saturday morning with the Chorus Competition starting at 10am.  We will have coaching panels following each competition, and it doesn't end there.
During the afternoon pre-ordered lunches will be delivered and available in the lobby of the High School and immediately following that we are going to try a fun new concept to connect to our brothers and sisters from around the Division.  Inspired by Harmony College NW, we will be hosting a variety of sessions led by local directors, coaches (TBD), and leaders throughout our division to learn the best from each other.  We are excited about the possibilities here and as more information gets finalized we will share it at Topperchorus.org
After an afternoon full of great lunch and inspiring connections we hope you enjoy a couple hours of free time before a groundbreaking SHOW OF CHAMPIONS.  We promise that you won't want to miss this one.  We have a few surprises up our sleeves for this near 2 hour entertainment packed show!  Immediately following the SHOW OF CHAMPIONS, head over to the host hotel for a grand afterglow.  It will feature many reasons to stay over and further connect with your fellow barbershoppers and audience members.  Here are some of the awesome things we have in store for the afterglow…
Free
Discounted Food and Drinks
Tag Party Room:  TAGS on the big screen, good juicy tags, led by Josh Honrud and friends.
B-Town Bar – Quarteting Performances.  Want to enjoy the sounds of some of our districts great quartets?  This section, located right around the corner from the TAG party, is the bar where you will mingle with non-barbershoppers and barbershoppers alike.
We are so excited to connect with you in just a few short months.  Save the date.  March 15th-17th – 2019 Bellingham, WA.